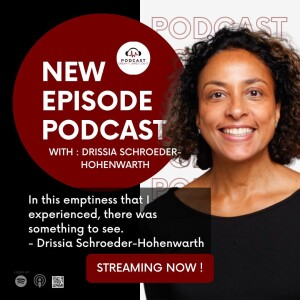 Saturday Dec 31, 2022
Drissia Schroeder-Hohenwarth: In this emptiness that I experienced, there was something to see. -
QUOTE OF THE DAY:
In this emptiness that I experienced, there was something to see. - Drissia S-H.
In this episode of "Dream it! Dare it! Do it! Live the Life You Want!" I am speaking with Drissia Schroeder-Hohenwarth. Drissia discusses the impact that a stroke at the age of 35 had on her life. She was not only forced to stop thinking, for a while, but that experience also compelled her to explore the impact of quieting the mind approaching inner wisdom.
Drissia is a Psychologist, an Executive Coach, and a Systemic Organisational Consultant with a fascination for the human mind and a passion for transformation. She is the owner and founder of DSH International HR and has worked extensively for various companies worldwide for 25 years. Her clients are individuals, leaders, and organizations with all kinds of dreams, visions, and challenges. She helps them use the power of their humanness and wisdom to thrive in their roles, businesses, and personal growth.
For more information on Drissia Schroeder-Hohenwarth please visit:  www.DSH-InternationalHR.com
---
#theinspiress #solopreneurinspiration #livethelifeyouwant❤️
#liveinthenow #liveinthemoment #bepresentnow #happiness #wisdom
#inspirationalquotes #solopreneur #entrepreneurinspiration #solopreneurs #solopreneurlife #solopreneurcoaching #coachjasmynesays #transformativecoachjasmyne #BringYourBusinesstoLife #GetInspiredNow
#DreamItDareItDoIt #LiveTheLifeYouWant #MakeitHappen #EpisodeDropped