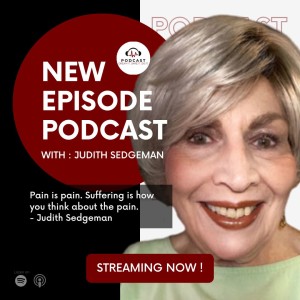 Friday Nov 04, 2022
Pain is pain. Suffering is how you think about the pain. - Judith Sedgeman
QUOTE OF THE DAY:
Pain is pain. Suffering is how you think about the pain. - Judith Sedgeman
In this episode of "Dream it! Dare it! Do it! Live the Life You Want!", I am speaking with Judith Sedgeman.  We discuss how thoughts affect everything: from day-to-day activities to major life decisions. By changing our thoughts we change the way we experience pain and suffering.

Judith Sedgeman is a facilitator of well-being and has worked with many practitioners of the three principles around the world.

For more information on Judith Sedgeman please visit:  www.Three-Principles.com
-
It's time for you to shine!
I've worked with solopreneurs, entrepreneurs, business owners, and high-performers for over two decades.
Let me show you how simple things really are, with these 4 steps. As I like to say: let's get COGI with it! It means: Get CLEAR. Get ORGANIZED. Get GOING. Get INSPIRED.
I offer a rare combination of coaching & business talk, technical & artistic experience, and practical & creative skills. Please don't sweat the technical stuff. I've got your back. If this speaks to you, let's chat, no strings: https://go.jasmyne.coach/chat
---
#theinspiress #solopreneurinspiration #livethelifeyouwant❤️
#liveinthenow #liveinthemoment #bepresentnow #happiness #wisdom
#inspirationalquotes #solopreneur #entrepreneurinspiration #solopreneurs #solopreneurlife #solopreneurcoaching #coachjasmynesays #transformativecoachjasmyne #BringYourBusinesstoLife #GetInspiredNow
#DreamItDareItDoIt #LiveTheLifeYouWant #MakeitHappen #EpisodeDropped