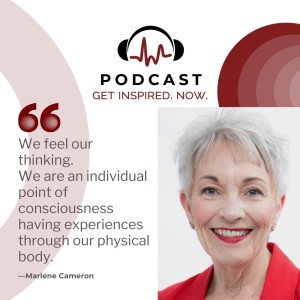 Thursday Dec 23, 2021
We feel our thinking. We are an individual point of consciousness having experiences through our physical body. - Marlene Cameron
We feel our thinking. We are an individual point of consciousness having experiences through our physical body. - Marlene Cameron
In this episode of "Dream it! Dare it! Do it! Live the Life You Want!", I'm speaking with Marlene Cameron who is a business coach for professional women in business in Alberta, Canada. We discuss EFT and the three principles. More importantly, we discuss how we experience our own individual realities and what keeps us all from feeling connected.
Marlene Cameron, founder of Awakened Women in Business, is an international speaker, trainer, and Three Principles Coach. She reacquaints entrepreneurs and CEOs with their spiritual essence and connection to universal wisdom so that they have the high-level clarity to be more decisive, productive, and profitable. She created her Decision Clarity Advantage signature coaching program to help women achieve their business goals with greater insight and confidence, free of stress and self-doubt. Her clients enjoy elevated business success with greater ease and flow and also have the time for themselves that they desire and the financial freedom they deserve.
For more information on Marlene Cameron please visit: www.MarleneCameron.com
--
I am an international coach, business consultant, and co-author of the bestselling book "The Midas Touch." My friends have told me I am a visionary, a possibilitarean, and a multipotentialite. In other words, I see how to make things happen or I find ways of making them happen. I really believe you can create anything you want.
I work with solopreneurs, entrepreneurs, small/medium business owners, and high-performing individuals. Together we make things happen. Get Perspective, Get Clear, Get Organized, Get Inspired. Live the life they want.
Let's chat: https://go.jasmyne.coach/chat
---
#LiveTheLifeYouWant #Inspiration #Happiness #EpisodeDropped #Wisdom #InnerPeace #GetInspiredNow #GetOfYourHead #GetIntoYourLife #Inspiration #LoveLife #CoachJasmyne #Understanding #Happiness #Wisdom #TheThreePrinciples #Mind #Thought #Consciousness
#MentalHealth #PodCreator #PodHelp #PodernFamily